Adande Bora wins the Refrigeration Product category of the National ACR Awards 2023.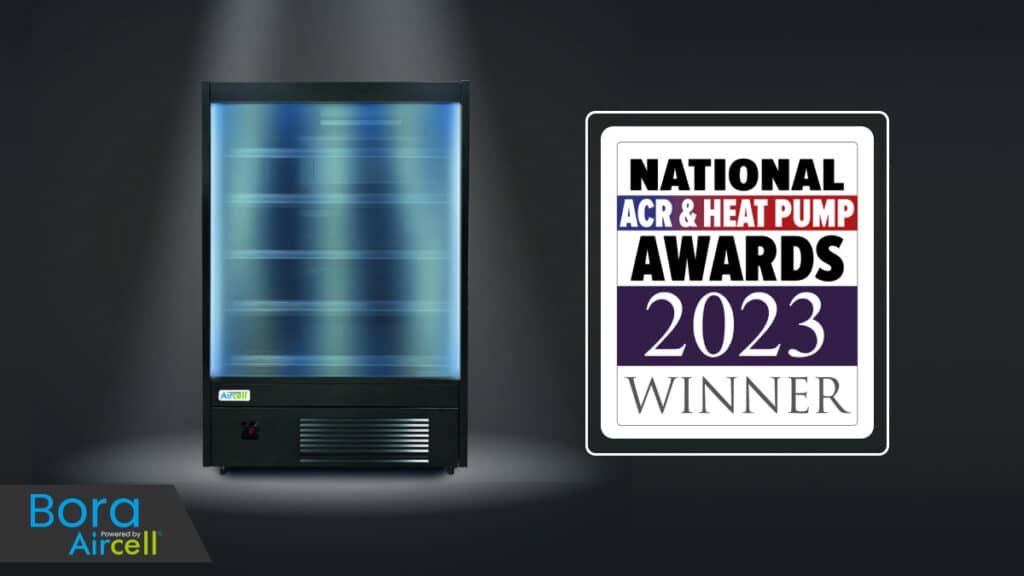 Adande Refrigeration Ltd is thrilled to announce it has won the Refrigeration Product Category of the National ACR Awards 2023, for its Bora cabinet. Beating off some tough competition, the open-display retail cabinet has wowed industry experts and retailers alike for its outstanding performance and low energy use. Powered by Adande Aircell technology developed by Adande Design and Engineering, the cabinet has a B-Grade energy rating. This energy efficient rating is the first of its kind for open display multidecks which are renowned for being inefficient and high Glass door multidecks require costly maintenance and regular cleaning and are also proven to dissuade shoppers from purchasing, the doors acting as a physical and mental barrier to sales. Now, retailers that use Bora cabinets can rest assured shoppers can browse unhindered, and that the Bora cabinet is using less energy – a sustainable solution for brands that are committed to lowering their carbon footprints.
Karl Hodgson, Managing Director, Adande Refrigeration Ltd: "The whole team at Adande Refrigeration is absolutely thrilled to be recognised for the Bora. It's a fantastic cabinet and remains true to Adande's hold-the-cold DNA; in that it maintains a consistent, stable temperature and delivers the perfect microclimate for grab and go consumables. In fact, Bora outperforms many of the multidecks currently on the market. Put to the test, Bora's B-grade energy efficiency saves operators thousands of pounds by reducing energy bills, reducing maintenance cost and lessening food waste. This is great news for retailers. Bora is now being installed in many food-to-go and retail outlets, operators seeing the benefits of Aircell technology from day 1. They love the fact that now they can have open-display refrigeration that delivers on every level. It's a game-changer. "
Nigel Bell CEO and Executive Chairman, Adande Group: "We are very pleased with this recent news and congratulate our Adande refrigeration team on this win. Bora's efficiency is due to the Aircell technology it is powered by. It is developed by Adande Design and Engineering and available for retailers and OEM cabinet manufacturers via Adande Aircell Ltd. If anyone has any questions, we urge them to get in touch via our website, www.aircelltech.co.uk and for all ready to go cabinet enquiries please contact Adande Refrigeration at www.adande.co.uk or by reaching out to your relevant sales representative.