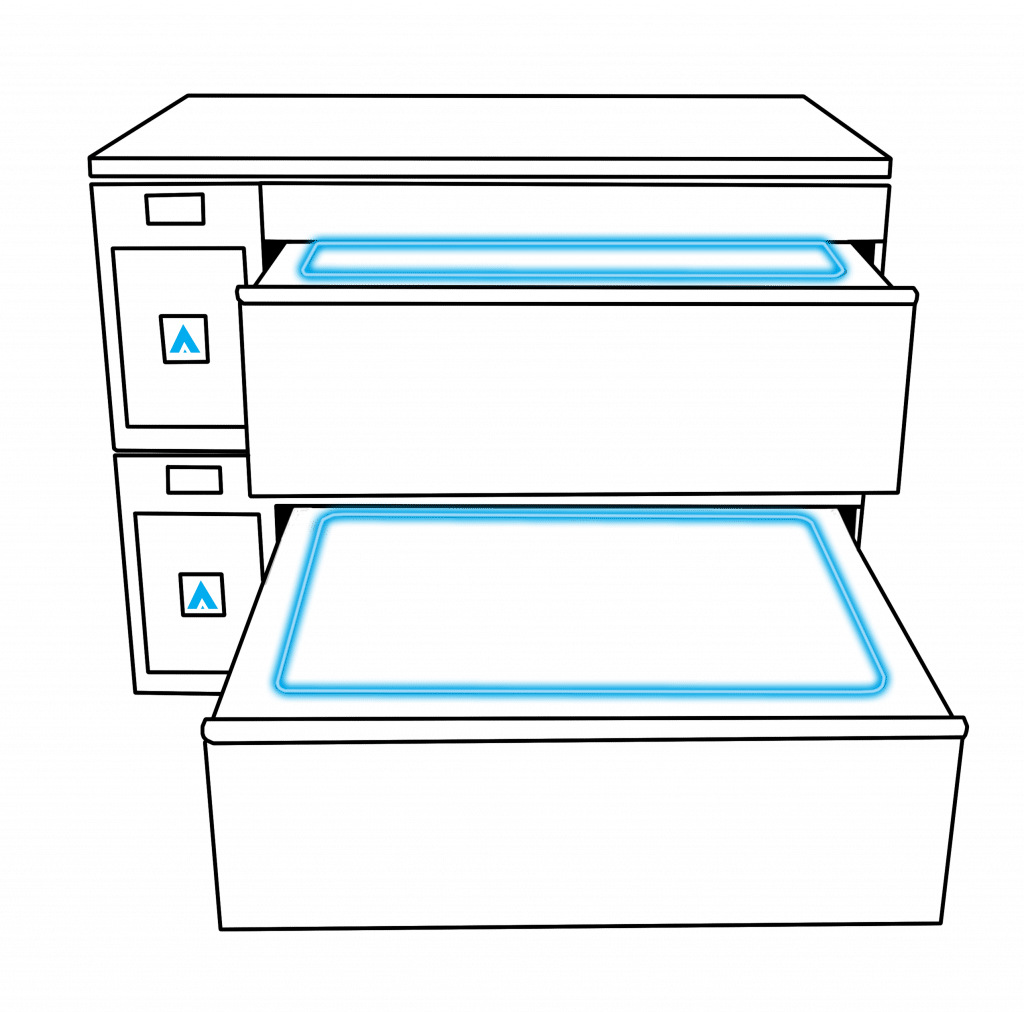 Founded in 1984 by design engineers George Young and Ian Wood, Adande quickly became known as a specialist engineering consultancy for industrial ventilation, refrigeration and air conditioning for the oil and gas industry. Offshore Chefs working on large vessels and oil rigs would frequently ask the team to come up with a fridge-freezer where you could frequently open its doors and yet still provide a constant environment. With shift workers needing to be fed at differing times, day and night and the kitchens running around the clock, this was a constant issue for the energy companies and their contractors. So, George and Ian starting with a 'blank sheet' of paper began work on a new design that would essentially 'hold the cold'.
Soon after, the Adande Refrigerated drawer was born. A modular unit that indeed does not lose its temperature, like competitor brands, but that also sports precise temperature, in that an operator can specify to half a degree 0.1°, from -22°C to +15°C, the required environment. This means that the temperature stability an Adande offers, enables food, irrespective of whether chilled or frozen, to be held at optimum freshness. Something currently no other refrigeration brand can claim.
Now a globally patented design, it has proven itself with caterers in all market segments, and been recognised as a unique and ground-breaking product for the industry. Thanks to its innovative hold the cold format and the team's commitment to food quality, as well as energy and waste reduction, Adande was pleased to win FCSIs Worldwide 2010 Award for 'Manufacturer of the Year'.
Since then Adande has expanded its range, and grown its brand internationally with a dedicated facility in Texas, USA and distributors and consultants specifying and recommending the Adande product the world over. With innovation at the very heart of the company, in 2015 Adande went onto create Aircell®
Aircell® is the latest technology for retail and Grab n' Go chillers which eliminate 'cold aisle syndrome', saving over 30% of energy usage and providing a stable temperature. Another example of Adande's innovative approach to design, the cabinets not only retain product quality they also enable easy food access. It was this that ensured the first Sarma Aircell® cabinets were introduced to great acclaim, in 2018. Understandable then, in a world where we consciously look to conserve energy and reduce our carbon footprint, for the retail and food-to-go markets, Aircell® continues to go from strength to strength.
2022 and beyond…
Adande is committed to its vision of continuing to be trusted globally as a leader in refrigeration, introducing new technology and innovative design that meet real customer needs in food storage, display and service. Alongside this, Adande aims to always be a Chef's refrigeration brand of choice given the quality product a culinary artiste can deliver when ingredients and foodstuffs are stored at a temperature that is both stable and precise.
Welcome to the Adande difference.
The first unique UK innovation in over 70 years, our patented 'Hold the Cold' technology functions like no other fridge or freezer in the commercial refrigeration industry.
Totally unique to Adande, the insulated drawer inside the unit ensures cold air is retained each time the drawer is opened. Unlike conventionally made refrigeration units, where fans blow cold air around the cabinet, with Adande, cold air gently cascades down onto and around the food in the insulated drawer – we call this 'low velocity cooling'. This design allows chefs to prolong the shelf life of their ingredients and products by preventing food dehydration.
Low velocity cooling ensures the Adande has a stable temperature and exceptional humidity control at all times. During frequent or prolonged drawer openings, the attack from high temperature and ambient air is minimal, providing a cool and benign microclimate for the storage of food.
In the hottest of kitchens, and even when positioned directly under high temperature griddles and charbroilers in the cook line, Adande drawers perform exactly the same. With the insulated drawer open, users will have a perfect bird's eye view of all products and ingredients, providing a speedy service and faster kitchen production.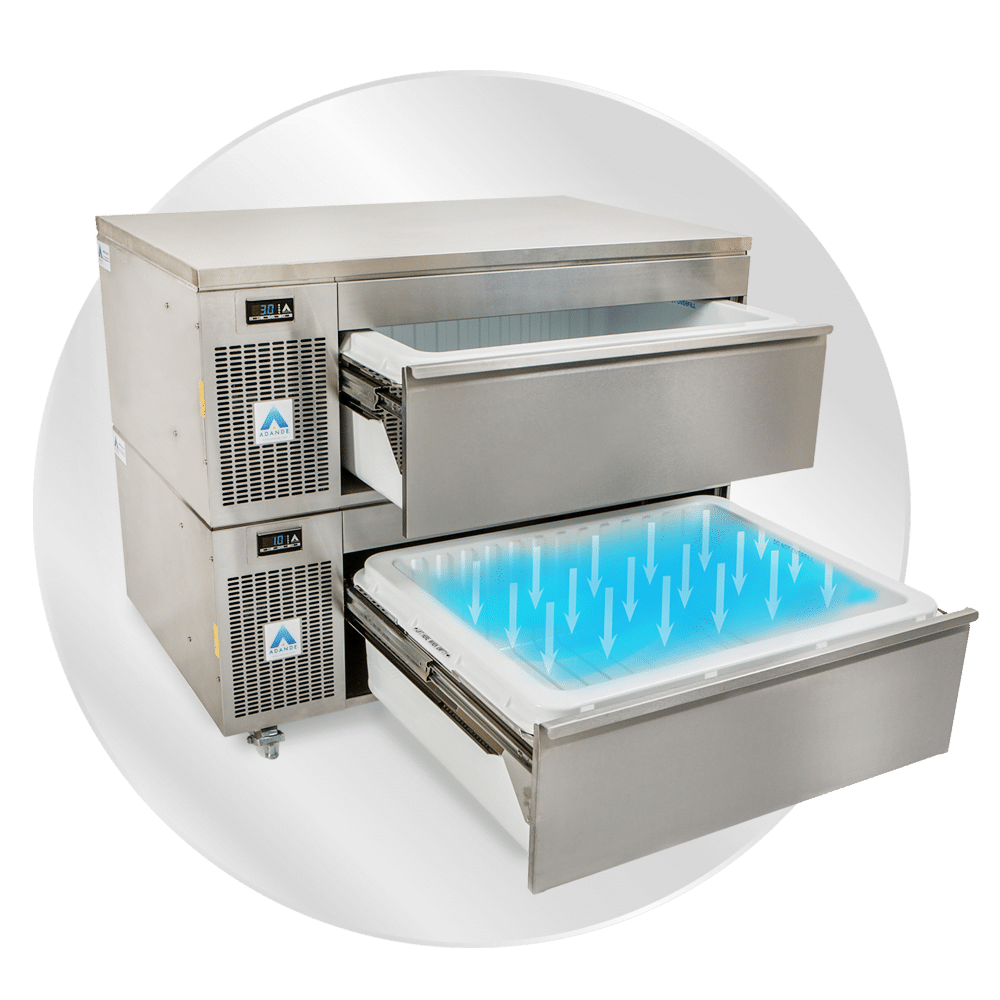 Adande is proud to be made up of a talented team of people passionate about what they do. At all levels of the organisation, around the world, the Adande team are committed to providing the best refrigeration solutions in the market, built with our customers interests in mind.
Adande's culture has been built on innovation and with this at the very heart of our business, finding new ways to improve and evolve our market is paramount. We strive to be more agile, and visionary. We look to remove complexity, continuing to be pioneers in our industry servicing some of the most interesting and inspiring culinary brands and helping them to deliver the quality that sets them apart.